AVR
Atmel's RISC microcontrollers with flash memory in it for program codes. AVR at Wikipedia
You can buy e.g. Atmel STK200/STK500/STK600 development board, you do NOT need to build programming hardware, but here is my story.
Hardware
When I would like to built an USB/I2C adapter, I found i2c-usb-tiny. To built it I had to program Atmel ATTiny45 microcontroller, but I hadn't got any programming adapter device for it. I found that DAPA cable could work on parallel port, so I built it.
It looked like that it works, but unfortunately the i2c-usb-tiny hadn't worked for me and magical way the microcontroller looked bad, so I tried another hardware. I'd built PonyProg's STK200 in solderable breadboards: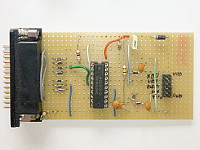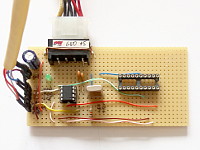 This hardware works well with PonyProg and AVRDUDE too, but the i2c-usb-tiny adapter hadn't worked for me. My knowledge about AVR chips were near nothing at that time, so I stopped this project. (later I bought a ch341a usb/i2c adapter)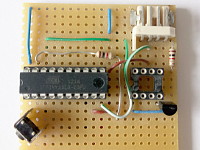 Then I read more about ATTiny45 and I learnt that programming fuse bits can cause the magical thing that the microcontroller looked wrong.
I found this project and then I can bring back the "wrong" microcontrollers to "live".
Reading about programming AVRs looked interesting and I liked that I can build "almost anything" with this controllers, not just blinking leds as lot of people thinks.
My newer computers hasn't got parallel port, just USB ports, - I searched the internet, and found and investigated Simplest USB AVR programmer, - and I built my usbtiny programmer with ISP port, so the previously built 8pin+20pin AVR adapter works with it.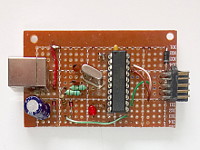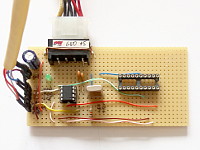 This usbtiny hardware + AVR adapter is not compatible with PonyProg, but works well with AVRDUDE.
AVRDUDE - AVR Downloader/UploaDEr
AVRDUDE is a free utility to manipulate/read/write Atmel chips.
To test that you can access ATTiny45 chip with your hardware you can run for stk200:
avrdude -p t45 -c stk200

or for usbtiny:
avrdude -p t45 -c usbtiny

If all the connections are correct you will get similar result:

Programming
You can create program codes in Assembly or in C programming languages. If you choose C you can compile and flash to ATTiny45 with usbtiny with this code:
avr-gcc -Wall -g -Os -mmcu=attiny45 -o mycode.bin mycode.c
avr-objcopy -j .text -j .data -O ihex mycode.bin mycode.hex
avrdude -p t45 -c usbtiny -U flash:w:mycode.hex:i

And by popular request: blinking leds

My example C code to switch connected leds to ON or OFF and waits a little beetween changes. It will stop when only one led is ON which is connected to PB2 Pin.
#define F_CPU 8000000UL

#include <avr/io.h>
#include <util/delay.h>

int main(void) {

    DDRB =  0x1f;   // set PortB to output

    PORTB = 0b00011111;
    _delay_ms(100);
    PORTB &= 0b11100011;
    _delay_ms(100);
    PORTB |= 0b00011100;
    _delay_ms(100);
    PORTB &= 0b11111000;
    _delay_ms(100);
    PORTB |= 0b00000001;
    PORTB &= 0b11100001;
    _delay_ms(100);
    PORTB |= 0b00010000;
    _delay_ms(100);
    PORTB |= 0b11101110;
    _delay_ms(100);
    PORTB &= 0b11101110;
    _delay_ms(100);
    PORTB &= 0b11100100;

    return 0;
}