Arduino
From its website: https://www.arduino.cc/
"Arduino is an open-source electronics platform based on easy-to-use hardware and software. It's intended for anyone making interactive projects."
You should buy a Arduino board and get its software environment. (Arduino Products, Arduino Software) Good news that linux 64bit or 32bit version also available.
1602 LCD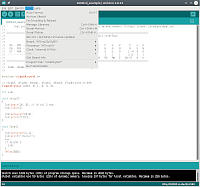 I'm ordering an Arduino board, until arrives I checked the software. I realize that it can use my usbtiny programmer too. On The Internet I have found that there is an addon to use ATTiny45 as a board, so I've installed it.
I'm showing how much easier to use preprogrammed libraries with Arduino. I did the same as previously, write to 1602 LCD. (So you don't need to program how to handle LCD, it's already done. Just include and use it.)
As it did almost everything, I haven't find yet where/how to setup fuse bits, so I used avrdude for that.
//      Test program for accessing 1602LCD from ATTiny45 in Arduino sw environment (Tóthpál István, istvan@tothpal.eu)
//
// =================================================================================================
//                ATtiny                                1602 LCD 4bit interface
//               25/45/85
//              +--------+
//   RS - PB5 --+ o  Vcc +------------                 G    +    G    P    G    P      P    +   G
//   D6 - PB3 --+        +--  PB2 - D5 PIN             N    5    N    B    N    B      B    5   N
//   D7 - PB4 --+        +--  PB1 - D4 PIN             D    V    D    5    D    0     1--4  V   D
//  ------------+ GND    +--  PB0 - EN PIN             |    |    |    |    |    |     ||||  |   |
//              +--------+                            VSS  VDD   VO   RS   RW   E   D0-D7   A   K
// =================================================================================================
//
//  FUSE: HFUSE: 0x5F - RESET DISABLED; LFUSE: 0xD2 - 8Mhz no_div
//

// The library we need to handle LCD
#include <LiquidCrystal.h>

// rs=pb5, en=pb0, d4=pb1, d5=pb2, d6=pb3, d7=pb4 pins on AVR
LiquidCrystal lcd(5, 0, 1, 2, 3, 4);

int i=0;

void setup() 
{
  lcd.begin(16, 2); // 16 col 2 row
  lcd.clear();

  lcd.setCursor(6,0);
  lcd.print("TIS");
}

void loop() 
{
  lcd.setCursor(i,1);
  lcd.print(" Hello!");
  i++;
  if (i>15) {
    i=0;
  }
  delay(500);
}